Have you ever heard of James Herman Banning?
Be one of the first to support the creation of this remarkable exhibit which features the inspiring life story of James Herman Banning: A Greatest Story Never Told!
Sign your name to the Gold Book by making a donation to the Tulsa Air and Space Museum's Traveling exhibition fund. In 1932, when Banning's supporters donated money, they signed the wing of his plane that he called the Gold Book. You or your organization can sign or place your logo on a wing that will travel with this exhibition throughout the United States.
The On Freedom's Wings Traveling Exhibit will feature:
4 single-sided and 8 double-sided, freestanding storyboard and interactive panels that contain images and descriptive text panels. The panels will include historical documents; photos and quotes from long-ago interviews with Banning.
An interactive replica cockpit of an Alexander Eaglerock, the airplane that Banning flew across the country, will give visitors an immersive experience and insight into flying in an open cockpit biplane. A monitor will be fitted above the instrument panel that will give the pilot a sense of flying including take-off, flight and landing scenes. The front cockpit will include interactive video in which Banning talks to students about his adventures and will include examples of some of the barnstorming maneuvers that Banning performed.
Large period models replicating Banning's most historically important biplanes will be included in the exhibit:
The Alexander Eaglerock
The Curtiss JN-4, Jenny
Vintage or replica leather helmets and goggles will be displayed to illustrate what Banning wore during the Golden Age of Aviation and during his flight across the country
A copy of the original map drawn by Banning and Allen as they planned the transcontinental flight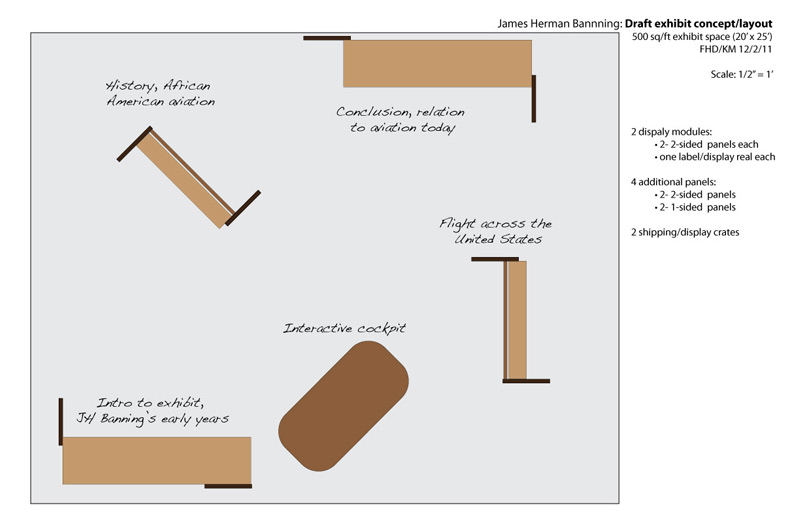 After the Oklahoma tour of On Freedom's Wings, the exhibit will travel to Los Angeles, California where it will begin the journey of following Banning's original route across the country to Valley Stream Airport, Long Island, New York.
"All of us at Tulsa Air and Space Museum & Planetarium are very excited about the new On Freedom's Wings Exhibit. We have always had a small exhibit for James Herman Banning in the museum, but this exhibit will feature Banning, share newly discovered research about Banning's life and accomplishments and give everyone the opportunity to learn about one of the Greatest Stories Never Told.When Pat Smith first approached me about the James Herman Banning traveling exhibit, Tulsa Air and Space Museum was featuring the Our Lives, Our Stories – America's Greatest Generation traveling exhibit from the Mid-America Arts Alliance. It was such an outstanding exhibit that we wanted to find out who made it. That's when we discovered Flint Hills Design. Everything about their design, construction and interpretation was spot-on for the Greatest Generation exhibit and we knew that we wanted them for our new Banning exhibit."Support the Exhibit
Kim Jones: 918-834-9900 x113
Tulsa Air and Space Museum & Planetarium
3624 N. 74th East Ave.
Tulsa, OK 74115